Express bus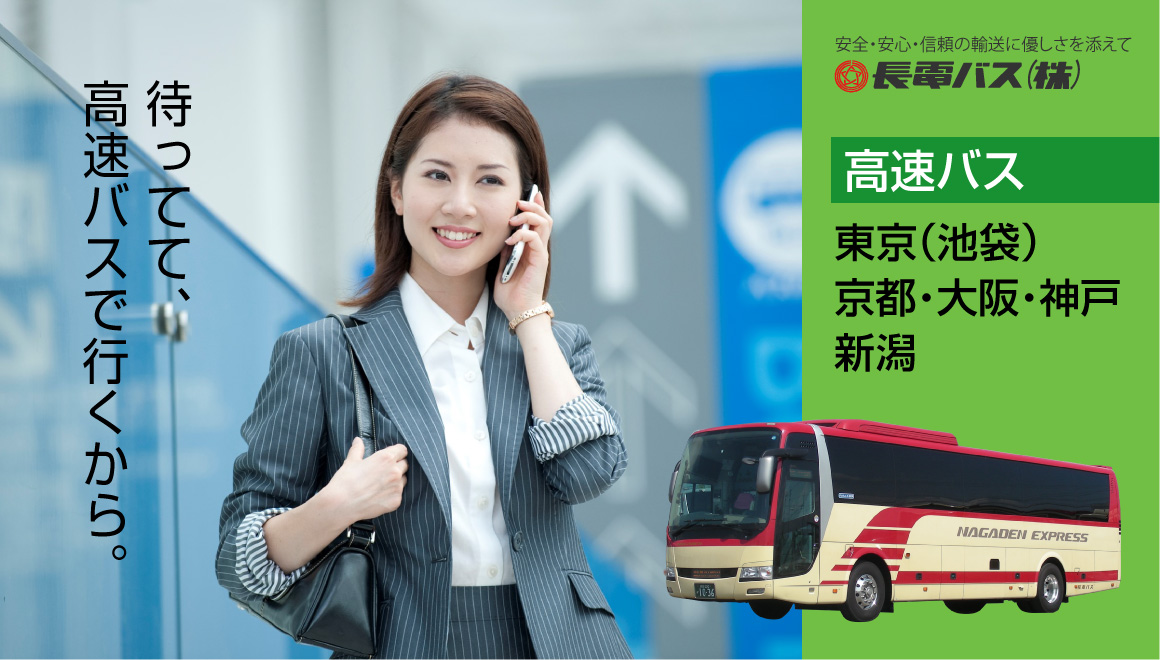 Express bus service information
NAGANO - Ikebukuro Line

It travels as usual

NAGANO - Niigata Line

It travels as usual

YUDANAKA, Iiyama, NAGANO - Kyoto, Osaka, Kobe Line

It travels as usual
Direct flight without transfer! It travels by loose three lines sheet car every day. As you arrive at Kansai if you wake for redeye special, you can use day significantly.
5 commutes every day! It travels by three lines of unhurried independence sheet car. In the case of reservation, there is limited early purchase discount service from Web.
4 commutes every day! As for stop of 9, Kitashinano point and stop of eight places of Niigata, timetable, the fare, please see this. There is women-only space in waiting room of Bandai city bus center, too.
It is bargain service to change to bus after stopping car. You can use "NAGADEN NAGANO parking" or "NAGADEN GONDO parking" with the express bus whole line.
There is limit in baggage which you can bring into express bus. For more information, look here.
NAGADEN express bus Nagaden Express travels as "high-speed carryall" (route bus). For more information, look here.
We settled question about express bus. About reservation, payment, seat, break SA, accident correspondence, we answer uneasy question before departure.
Reservation from the Internet, please use "departure o - rye" of express bus reservation site. Departure o - rye net